Room/ArtDeco Villa, EspanolaWay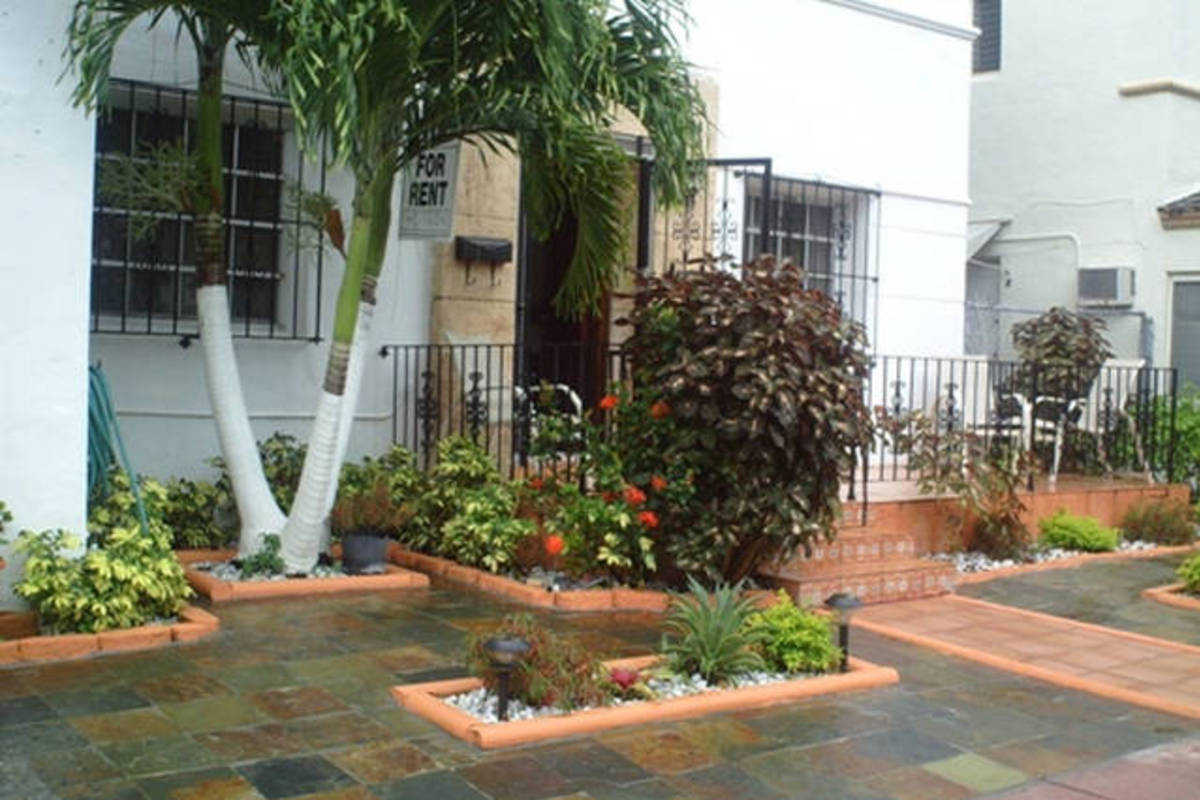 Pladser

2

Soveværelser

1

Badeværelser

1

Størrelse

15 m²

Etage
Air condition
Internet/WIFI
Aflåseligt rum
Køkken
Vaskemaskine / tørretumbler
Opvaskemaskine
Beskrivelse
Wimdu-godkendt
Translated by Google Translate Show original version. "ARABIAN DREAMS" room in a Villa, Espanola Way, Heart of South Beach, Miami Beach. The room is located on the second floor of the house.

NO cleaning fee, NO surcharges.

Villa: Marble floors, exotic landscape, décor and plants, Swarovski crystal chandeliers.

Room: A spacious room with a shared bath (shares bath with another room) features many comforts including a queen size bed, hard wood floor, large walk-in closet, air conditioning, free Wi-Fi

We now rent cars, please contact us in advance to get the best rating.

For our guests we now rent BIKES (Special price $15 per day, see "house rules" for details). We also provide parking permits ($15 per day, subject to availability)

Full access to kitchen, dining room. You may also use washing/drying machine ($15 full washing/drying cycle including the cost of detergent, see house rules for details).

Two blocks away from Lincoln road mall and Ocean Drive.
Close to beach.
Miami Beach Convention Center is in 6 blocks from the house.
Flamingo Park is right across the street. In Flamingo park you can enjoy gym and swimming pools (free for locals, $10 for everybody else, but nobody is asking ID).
Lots of clubs and restaurants in the neighborhood will make your vocation most enjoyable. The most beautiful house in the street!!!!!!!
Espanola Way is the most charming street on South Beach.
We provide parking permits (subject to availability), $15 per day.

Welcome to South Beach, home to a variety of cultures, the arts, and ocean town living!
The house is located on Espanola Way, a charming street modeled after Mediterranean villages found in France and Spain.
This 5 bedroom house is within walking distance to beaches with chair and umbrellas rental for your lounging pleasure; hike along the walking trails, play volleyball or enjoy a variety of water sports.
Just down the road is the lush outdoor Flamingo Park and Pool that offers tennis, racketball, and basketball courts. Two blocks away from Lincoln road mall and Ocean Drive.
There is something for everyone! Premier shops at Lincoln Road pedestrian mall; Ocean Drive's historic Art Deco District; restaurants with reputations for serving the finest international cuisine and casual dining venues; the Jackie Gleason Theater, operated by Live Nation, known for having the biggest names in the music industry; the state-of-the-art Colony Theater featuring local and national artists from the world of theater, dance, music, comedy and film; dance clubs, and a plethora of bustling nightlife venues.

The house is conveniently located in 4 blocks from the Shuttle bus stop that is on the corner of of Washington Ave and Lincoln Road. The ride from Miami Airport (Airport flyer 150) takes 30 min, $2 per ride. There is a shuttle bus to South Beach from Ft. Lauderdale Int. Airport that also stps at Lincoln Road ($21 per ride).
Many companies offer bus, boat or combo tours to Everglades, Biscayne Bay and other wonderful places of interst from South Beach. Tours start from hotels located on Washingtom or Collins Ave (4 blocks from the house).

Miami Beach is operated by Miami-Dade Transit (MDT). Along with neighborhoods such as Downtown and Brickell, public transit is heavily used in Miami Beach, and is a vital part of city life. Although Miami Beach has no direct Metrorail stations, numerous Metrobus lines, connect to Downtown Miami and Metrorail (i.e., the 'S' bus line). The 'South Beach Local' or 'SBL' is one of the most heavily-used lines in Miami, and connects all major points of South Beach to other major bus lines in the city. Metrobus ridership in Miami Beach is high, with some of the routes, such as the L and S alone being the busiest Metrobus routes.

Check our Face book page: Villa-Santa-Barbara-Miami-Beach-Fl. On Facebook you will find out the link to our web page with more pictures, description of all rooms and additional info including guide.
Gay friendly. Everybody welcome.☺ ☺
Husregler
Please send me a message BEFORE sending your booking request to make sure the property is available on your dates.
No children under 18 years allowed in the property.

Please keep in mind that the room that is occupied by the house owner is also might be rented. Therefore, PLEASE CALL OR TEXT OR LEAVE A NOTE ON THE DINNING TABLE if you have any questions or concerns. Please DO NOT KNOCK ON THE DOOR; DO NOT DISTURB.

ARRIVAL/DEPARTURE time
We are welcome our guests not earlier than 9AM. We ask our guests to leave by noon. If you arrive early (before noon) please expect that your room might still be occupied by the previous guest. You may leave your luggage and take a walk or have a rest in the garden or living room until your room becomes available.

ROOM CLEANING: Since we do not charge our gests cleaning fee, we expect them to clean after themselves upon departure. The following fees will be withheld from the security deposit: room cleaning $60; bathroom cleaning $50; stove cleaning $40.
When using public places including kitchen, dining room, garden or living room, please do not leave a mess when you finish with your activities. When cooking, please stay away from using exotic cuisines with offensive smells. Our other guests might be allergic for these smells.

SHEETS, TOWELS, BLANKETS: We provide sheets, towels and blankets. There is a stock of clean sheets/towels in the walk-in closet on the second floor next to the "Presidential suite". You are welcome to change your sheets/towels whenever you need to do so.

KITCHEN USE. NO COOKING after 9-30PM.

REVIEWS: All reviews and comments are welcomed and will be replied the same way that they were received, according to your comments. Thanks.

A NOTE TO OUR GUESTS: Please do not let in the house people whom you do not know. Our neighborhood is the safest in Miami Beach and we will appreciate if you will help us keeping it safe in the future.

KEYS: You will get a separate set of keys, so you will get in and out of the house any time you like. Upon departure, please do not forget to leave the key on the table in the dining room or bring it directly to Rico. We reserve rights to charge $20 for the lost keys.

PETS: No pets

SMOKING: No smocking.

NOISE: Please respect our neighbors by minimizing the noise. We do not let more than 2 persons per room to avoid large crowds.

MINORS: We do not allow minors in the house.

PARKING: We have parking permits, $15 per day. Discounts are available. Guest must inform in advance, before arrival, if he/she would like to get parking permit. Please be advised that if we provide permit for a street parking, we are not responsible for the safety of your vehicle parked on the street since we rent rooms, not parking space.

ACCIDENTS: When travelling, please purchase insurance. We are not responsible for accidents that might occur when you are visiting us. We are not responsible for the cost of recovery from these accidents.

DINING ROOM: please use table clothes or mat (check kitchen drawers) under plates and glasses when using dinning table to avoid scratching; please wipe dinning table with windex and paper towels after use (check the kitchen counter)

CANDLE USE: please do not light candles at all ...all candles are for the villa decoration

MARBLE FLOOR: We advise all our guests to be very careful during raining season. Some parts of our house have marble floor that might be very slippery when wet. Please use shoes all the time when in the house, we are not responsible for any accidents. We advise all guests have insurance.

BIKE RENT. We now have 3 bikes for rent that include racing bike and mountain bike. You may use bike all day long for $15 fee. We are not responsible for any accidents that may happen with you when using bikes. Bikes are rented for use in South Beach area only. Guest is responsible for fixing any damages to the bike. If guest refuse to fix damages, $45 charge will be withheld from the security deposit to cover repair. A $60 charge will be withheld from the security deposit for lost bike. $20 fee will be withheld for the loss of lock. We do not rent bikes by hour.
In the case of emergency (e.g., flat tire) please use bus to get back to the house. In Miami most busses equipped with special racks for bikes. You can take your bike anywhere you want using regular bus. The cost of bus ride is $2 one way. The following is a quote from miamidade.gov web page that describes in detailes the use of bikes when boarding public busses: "Bike & Ride. Bicycling, a popular South Florida pastime, is a fun way to exercise. And it's a clean-air commute, too. Now, cyclists can take a single-seat two-wheeler on extended trips anytime and just about anywhere in Miami-Dade County on many Metrobus routes, Metrorail, and also Metromover. Use caution when stepping off the curb to load or unload your bike.Wait for the bus to leave before crossing the street. Observe all local traffic laws while riding your bike.Be patient while others load or remove bikes from the rack. Load and unload quickly.Helmets have high visibility and provide protection for your head during a crash. Wear one whenever you bike.Florida law requires lights on your bike for night riding.Wear bright clothing during daylight hours and reflective clothing at night."

WASHING/DRYING MACHINES. If you would like to wash your close before your departure, you may use washing and drying machines. There is $5 fee for the use of each machine and also, $5 for the use of detergent. .

LEFT/ABUNDANT ITEMS: At the end of your stay, please do not leave any belongings with us for storage. All items left upon departure of the guest, we consider unwanted trash and dispose appropriately.

Updates to House Rules (Dec 04, 2012)
1. Due to changes in regulation of parking permits by Miami City, we have to raise the cost of the parking permits to $15 per day.
2. Please sign all food that you put in refrigerator/freezer.
Detaljer

Check-in efter
Efter aftale
Check-in før
Efter aftale
Check ud før
Efter aftale
Annulleringsforhold
Streng
Wimdu løftet
Vi sikrer den bedste kvalitet af boliger & services
Kvalitetssikrede boliger
Alle værter verificeres via telefon
Sikker betaling med SSL-kryptering